On to New Orleans ...
It took us longer than expected to leave Galveston ... we wound up waiting over an hour to get on a popular (free) ferry for a hot ride to Port Bolivar. After that it was smooth sailing to Louisiana. We watched the car's outside thermometer with amazement ... temperatures were over 100° and peaked at 104° near Baton Rouge.
| | |
| --- | --- |
| On the ferry to the Bolivar peninsula | |
The nicest part of the drive was going through and over the Atchafalaya National Wildlife Area … miles and miles of spectacular wetlands. Wow, would I have liked to stop there to explore. From their website: The Atchafalaya River Basin contains over one-half million acres of dense bottomland hardwoods, cypress-tupelo swamps, overflow lakes and meandering bayous … providing a tremendous diversity of habitat for many species of fish and wildlife. The highway through the Area was a long low bridge for miles — it reminded me of the one through the Florida keys — very scenic but in a different way. What a project it must have been to build that.
As we reached New Orleans, the highway skirted massive Lake Pontchartrain before heading downtown where the Superbowl dominated the skyline. We found our hotel, just south of the French Quarter. What a pleasant surprise it turned out to be. At first we didn't know what to make of it ... a strange city building with a lobby-garage area open to the street. It was three storeys with interior walkways and sitting areas. Our elegant room, with a full kitchen, had brick walls and ceiling beams. And, what do you know? The Plaza Suite Hotel had been one of New Orleans' earliest firehouses, circa 1870. It was the first time we'd been able to back our car into a hotel to unload. See Trip & Hotel.
I was excited to be back in New Orleans — it had been over 20 years since my last visit. I wanted to come (and have Peter see it for the first time) even more so after Katrina. The city and whole Gulf coast need tourists and all the help it can get.
| | |
| --- | --- |
| In the French Quarter. | |
We were soon walking around the stifling French Quarter. See French Quarter. The first thing that struck me was the quiet. I'm sure it was partly due to the heat, but the lack of people and activity was striking. Especially around Jackson Square where I remembered lots of artists selling their work and kids dancing for change on my earlier trips. For some reason the Square gardens in front of St. Louis Cathedral and the church itself were closed. Too bad — I wanted to look inside again … John & Lori were married there in 1976.
We had signed up (in advance, online) to work for Habitat for Humanity in New Orleans for one day. We showed up at Camp Hope in St. Bernard Parish. It was an elementary school that now serves as headquarters and lodging for volunteers working to rebuild the community after the levee breaks flooded and destroyed so much. We didn't know what we'd be doing, but were anxious to be useful.
We met our project leader, a cute young guy named Pete. He got a group of 11 of us together and explained we'd be working at a home nearby. In this case, the homeowner could afford materials to rebuild her gutted home, but not the labor. Hence, our little crew. Pete asked if any of us had done sheet rocking before. Most of the guys, including Peter, had. Uh, not me.
But I'd learn soon enough. The house was in a neighborhood where floodwaters had been 8-12 feet high, the man next door told me. He was one of the only people on the street to have rebuilt his home so far. Our house had an open, unfinished interior. We got a quick lesson in measuring, cutting and installing sheet rock and were off and running. It took me awhile to get the hang of the power screwdriver (if I ever did), but was soon drilling lots of screws into a bedroom wall.
Now, about that heat I've mentioned a few times ... on that day, the temperature was 97°, dew point 81°! Our little house had a bit of cross ventilation, but as we worked, closing in rooms and closets with sheet rock, no more breeze. We were effectively working in a steam house. See St. Bernard Parish.
| | |
| --- | --- |
| Camp Hope Headquarters | Our motley crew |
Peter won the "most sweat per capita" title. It was like he was in a continual downpour. He soon pealed off his shirt, wringing a good pint of sweat out before hanging it out to dry (which was not possible).
It's amazing what the body can get used to ... you think the heat is unbearable, but you do bear it, and keep on. We drank gallons of water, and during our lunch break Peter & I went to a convenience store where he bought about a dozen bottles of Gatorade. The crew was very grateful and every ounce was consumed. During breaks we'd stand outside and enjoy the "cool" breeze. Truly, everything's relative!
About our crew ... there were two twin brothers, Tom & Mark from NYC and Seattle. One had worked the previous summer also. Two Korean girls, students from a New York college. They were still learning English and had come down to work for a week. Lee from Connecticut, Gary from CA. Pete and Nolan, our two dedicated young leaders. A good group, I was honored to be working with them.
On our way back to the hotel, we stopped at a small grocery on St. Claude Avenue in the Lower 9th ward — needing more drinks and snacks. The store had shotgun proportions, longer than it was wide, with narrow aisles. We got our stuff and got in the longish, slow line to checkout.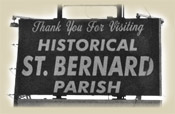 The lone cashier was in a glass-enclosed booth. An older woman in front of us had three heavy plastic bagfuls of some kind of chopped up meat from the deli. She somehow managed to carry those and other items out the door, on her way to catch a bus.
When we got in line, we were after her. As we waited, we noticed a man behind us somehow maneuvered his way ahead of us. I guess he wasn't happy to have obvious outsiders (darn, should have left the camera in the car) in his neighborhood store ...