The other side of the Big Island is another world.
The south and southeastern part of Hawaii had a nice feel — peaceful and beautiful. There were groves of coffee and macadamia nut trees, a few small towns and unique beaches. The lava fields were still around, but less prominent. There were big trees everywhere, and it rained more often.
South Point & Pahala. As we rounded the southern end of the island we took a side trip due south to South Point. The 11-mile drive was through surprisingly desolate land, on a bumpy one-lane road. We passed a wind farm, where rusty windmills cranked away with an eerie whine. It was maybe the most relentlessly windy place I'd ever been. There were deserted remains of military buildings, herds of cattle (who took care of them?) and a few small houses, but not a soul around. [See Map for Locations]
We reached the end of the road and got out to hike the rest of the way. It was tough remaining upright in the stiff wind, but we reached the true southernmost point (non-contiguous) in the U.S. (sorry Key West). We roamed around the area; the waves were smashing against the south coast violently. But to the west there were boat launches hanging over the cliff edge. Whoa, I wouldn't want to put a boat in these waters! But folks do and even snorkel on that side because it's protected from turbulent currents.
It was time to continue on to our next accommodations — something very different from the places we'd been thus far. We were going to Pahala, a small town near the southeast coast. We followed our instructions and checked in at the Plantation Store, a cute place that served as the front desk for the Pahala Plantation Cottages. A friendly girl greeted us, knowing who we were before we said anything. It's that kind of town— quiet, low-key, uncrowded —not a lot of visitors.
Our cottage was in town, in a neighborhood! It was a former sugar plantation cottage that had been moved into town and renovated. We had a true home for our last few days (with washer & dryer, yay). After stopping at the local grocery, we cooked pasta for dinner and enjoyed the comfort of our own dining room.
Volcanoes National Park
A big reason for us coming back to Hawaii was to revisit the volcanoes. We'd had only a few hours on our first trip. The park is incredible because it's on volcanoes: Mauna Loa and currently active, Kilauea, and the landscape is so diverse and dramatic. I'd hoped to see lava flowing into the ocean as we had 11 years earlier (in a trickle), but Madame Pele wasn't cooperating this time. [See Map for Locations]
Kilauea Iki Hike.There was so much to see and do. We checked out the Thurston lava tube first, in the midst of a rain forest to the east of the Kilauea caldera (a giant crater with many smaller craters inside).Then we geared up for the Kilauea Iki Crater hike, which begins in the rain forest above the crater and follows the rim halfway around. The vegetation above, so dense, green and tropical, was such a contrast to the environment we were about to enter.
At the opposite end of the crater we descended down to the crater floor. A barren landscape of lava, upthrusts, fissures and steam vents — great! Where else could we experience such changes in nature within moments? As we crossed the crater, what had started as a misty rain got much steadier. It created a surreal atmosphere, gray ground, gray air, gray walls surrounded us. We finally reached the other end of the crater and began the long trek up and out.
Soaked and grimy, we drove Chain of Craters Road down (from the 4,000-ft caldera) to the coast. We hoped the sun might be out near the ocean. And sure enough, the weather steadily improved and warmed and we were able to dry out. Chain of Craters Road runs for 20 miles, by small craters and years and years of lava flows. It ends abruptly on the coast, where lava flows from 1983 through the present have covered over 8 miles of road. (The road was shorter than the last time we'd been there.) And during that period, the Pu'u O'o vent of Kilauea has added 600 acres to the island!
Lava, Lava, Lava. I am enthralled with lava. Especially "newer" pahoehoe lava (see slideshow). Nature's art: beautiful swirls and wrinkles, hardened into amazing patterns and sculptures with a glorious sheen — I get a rush around it, like indulging in decadent milk chocolate. Yes, she's gone over the edge ...
We took another hike through a lava field to view ancient Hawaiian petroglyphs. These were drawings and symbols carved into the lava rock. The area is fragile because lava tends to crumble and erode over time, so a boardwalk was built to keep people from walking on the petroglyphs.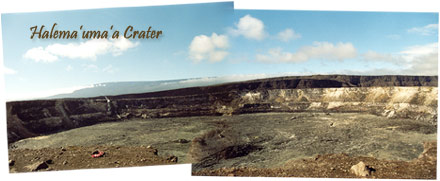 We drove back up Chain of Craters Road to Crater Rim Drive which runs around the Kilauea caldera. The biggest crater within the caldera, Halema'uma'u, is 3412 feet in diameter. It's an impressive sight (click photo above) and the place most visitors stop. As we approached I saw a tour bus coming. I raced out of the car to get some unobstructed photos before 70+ Japanese tourists debarked and overran the area.
There were several fissures emitting strong sulfur fumes — many people had hankerchiefs over their faces. A white-tailed tropicbird soared around the crater rim. Ever-present Mauna Loa loomed in the distance. On the opposite side of the crater, the Volcano House was just a dot on the caldera. And to the northeast a gray mass was approaching, fast. In less than a minute the the blue skies were obscured and it was dark and raining. Just another scene of wonder in Volcanoes National Park.
Green Sand & Golf. Our last day, what to do? Peter wanted to golf, I wanted to hike to Green Sand Beach. So why not do both? We got an early start to drive back to South Point. That's where the 2.25-mile one-way hike to Green Sand began. The only problem with the hike was the brutal headwind we battled. We followed the coast, not knowing exactly where we we going, but it was impossible to get lost. We saw some hints that we were getting close: olive-colored sand mixed in with the dirt. [See Map for Location]
We saw a mound in the distance that turned out to be Pu'u o Mahana, a volcanic littoral cone. (littoral: situated or growing on or near a sea shore.) The cone had broken apart from the constant wave action and that had exposed veins of olivine, a semi-precious gem. The olivine was worn down into sand particles — thus a green sand beach! It was a beautiful small beach encircled by the remains of the cone. We were probably 100 feet above it, and didn't find the hidden path down to water level.
On the return hike (blessedly with the wind) we stopped at a small sandy area over two miles from the cone. There was some glistening olivine sand on top of the golden stuff. I scooped up a sample and we were off. As we reached the car, a few groups of hikers were just starting out. Once again, we'd had a special place to ourselves ... we're lucky (and good!) at that ...
We bid farewell to strange South Point and went on to the next thing, golf at Sea Mountain, Punalu'u. Starving, we had lunch in the run-down clubhouse. The owners have let the place go, to put it mildly. But we got a good burger, cleaned up our sandblasted bodies, and played golf in a beautiful spot.
Back in Pahala on our last night, we enjoyed the nightly neighborhood entertainment: in the carport across the street a few people got together for hula lessons; very sweet, very Hawaii.
We began the long trip home the next morning. Hilo to Honolulu to Los Angeles. A sleepless overnight stay in LA, then a flight to Boston. It had been an enriching, thrilling trip. Thanks Peter, for making it possible, and for being so wonderful, accommodating and tolerant. And thanks to you, if you've read this far ...